LED Lighting:
 the fashion trend you weren't expecting
Fashion of the future may come in many forms. Hussein Chalayan designed a range of what were called 'video dresses'. These dresses were made from 15,000 LED's.
A model poses in a LED dress at its demonstration in Tokyo June 7, 2007. The dress, with light-emitting diode devices installed inside, was designed by Swarovski and Hussein Chalayan and was made available in the Japanese market in the fall and winter season in that year, according to the news agency Reuter.
Morning routine. Wake up, brush your teeth, and choose your outfit from a closet full of LED embedded clothes. Rewind. Re-imagine your morning routine. Just take any item of clothing from your wardrobe. You can change the message on your Tshirt or the logo on your jeans by tapping on an app on your phone.
While this may seem farfetched, technology and fashion are overlapping now more than ever. From fitness bracelets that track your heartbeat to glowing sneakers, we are relying more and more on technology to enhance our daily lives.
Wearable technology, specifically with integrated LED lighting, has been on the rise at major fashion events such as the global Fashion Weeks. In 2012, designer Philip Treacy debuted a line of LED hats, and Dutch Princess Marilène of Orange made an appearance at the Rijksmuseum in 2014 donning an LED collar.

This perhaps unlikely trend became more of a reality at this year's Fashion Week in London, New York and Paris as designers showcased their latest innovations on the runways. LED lighting is quickly becoming an "it" item in the fashion world.
LED-enhanced outfits seem to be creating their own niche in the billion dollar fashion industry lately. Unsurprisingly, celebrities have been among the first to showcase the new light-up fashion.
Earlier this year, House of Fraser's, one of Britain's leading department stores, debuted its "technology enhanced gown" during the BAFTA awards. The gown, embedded with LED lights and motion sensors, detects movement and changes light accordingly.
A London based technology fashion house called Cute Circuit created the first Twitter dress for singer Nicole Scherzinger in 2012. The outfit allows tweets with a specific hashtag to flash across the dress. Cute Circuit has other celebrity clients, including Katy Perry and Sarah Brightman.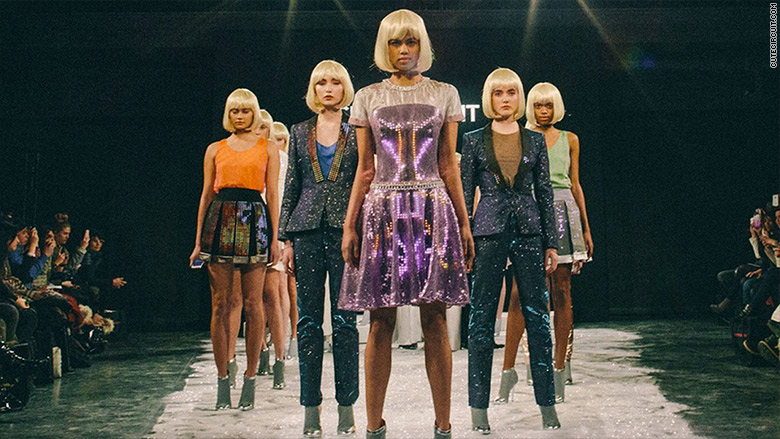 But wild light-up dresses aren't just for the runway or red carpet.
California-based technology fashion company, Electric Styles makes LED-shoes, light-up electro hoodies, bras, neckties and caps for the not-so-famous.
"There is a cultural shift in fashion where the young generation is taking over," said Electric Styles' CEO Nick Kneuper. "Previously, you won't be able to wear them because they were considered weird but people today want to be a little weird. It's a form of expression."
Kneuper projects the company's sales this year to grow two-fold to $2.5 million. Electric Styles has grown to a $10 million dollar clothing brand since its founding in 2012.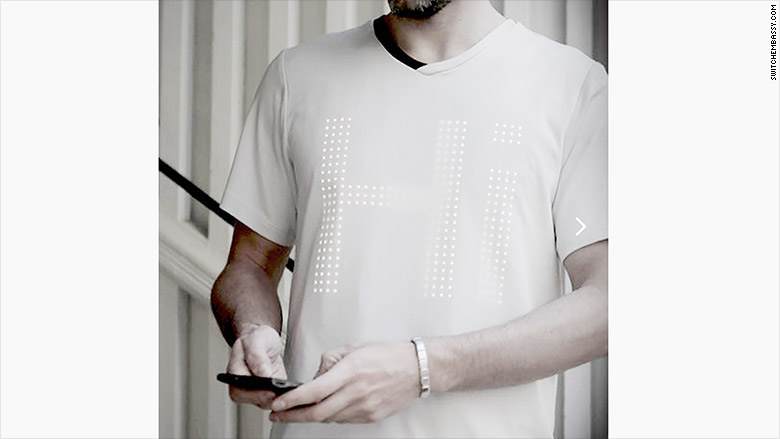 Related: Forget smart watches. Solar dresses are the future
New York based fashion startup Switch Embassy sells outfits that allow you to display customized LED-lit text messages sent from your phone via Bluetooth.
Funded by Scottish whiskey manufacturers Ballantines, Switch Embassy has developed shirts that allow you to say "go away" to unwanted attention without even using your vocal cords.
Using smart fabrics from Swiss textile manufacturer Forster Rohner, these LED embedded textile are durable, versatile and powered by mini rechargeable batteries as big as a "pinky."
Cute Circuit, a pioneer in the wearable technology industry, also created the "hugshirt", an outfit that sends hugs remotely, and the "Twirkle dress". Combining "twinkle" with "sparkle", the Twirkle dress is a micro-LED dress that lights up and changes color according to the movement of the wearer.
"It's a very interactive dress," said Cute Circuit's CEO Francessa Rosella. "It makes you want to move more and be active to showcase the color."
Cute Circuit has embarked to create LED outfits that allow customers to change designs from a selection of patterns from the company's database.
The Italian born Rosella said this allows customers to save on buying multiple cheap dresses and just invest in one with many patterns.
CuteCircuit, a company that focuses on wearable technology and interactive fashion, introduced an iPhone-controlled mini skirt. That's right: you can now control your clothing using your smartphone. Using a special Bluetooth app and a microscopic chip inside the garment, users can now change the color or pattern of their skirt. The app, "Q by CuteCircuit," allows the user to download different patterns and connect other pieces of clothing and accessories that house the same chip. With this kind of technology, fashion is truly individual and customizable.
The company's skirt was such a hit that its designers, Francesca Rosella and Ryan Genz, turned it up a notch this at this year's Fashion Week. The two have now connected the app to Twitter. The wearer of the garment can now create a hashtag, and have their friends' Tweets broadcasted on their clothing when they use that specific hashtag.
If displaying your 140-character thoughts on your clothing is too revealing, consider beginning your LED style with a simple dress. Richard Nicoll featured a Disney Tinkerbell inspired dress during his 2014 show in London. The famous fairy's contagious glow was captured in this sheer dress adorned with green LED lights, which fittingly resemble Tinkerbell's "pixie dust."
From the runway to the closet, high fashion is taking a high-tech turn, and, while wearing LED lighting may not be as common as wearing jeans, the future of fashion is definitely looking bright.
Sources
http-www-futureoflight-philips-com-home-design-led-lighting-the-fashion-trend-you-werent
http://money.cnn.com/2015/06/15/technology/led-illuminating-outfits/index.html